Travis Lett loves Venice, but he doesn't want to speak to me about how the iconic Los Angeles neighborhood has changed. "I want to be careful talking about what it's become, because I'm certainly part of it," says the chef and co-owner of Gjelina, Gjusta, and Gjelina Take Away.
I'm trying to get Lett to talk about gentrification, but I think we're both aware that if you're talking about gentrification, and you're standing in an artisanal bakery, you're probably part of the problem. The tenants of the artists' studios a few doors down are facing eviction to make way for a new office building. Local Venice paper Beachhead lays the blame at Lett's door, likening his business to "a greedy virus" infesting the neighborhood.
But let's be real: Will the new building next door be worth more because of its proximity to Lett's bakery? Sure. And will Lett make more money because of its tenants' desire for bagels? Absolutely.
It's a space that keeps him busy. When he's not manning the kitchen at Gjelina, he's pulling the night shift at his bakery, throwing dough at 3 AM. He also has a book on the way. But if he's tired, it doesn't show. Although he's been hard to pin down, he hasn't entirely blown me off. And when I listen back to the recording of our interview, I realize I've hardly had to ask him anything. Lett is ready to talk—but on his own terms.
Gjelina has been on Abbot Kinney Boulevard for seven years, with GTA opening soon after. Gjusta arrived last November, and then there's Lett's long-delayed ramen bar also coming soon to Abbot Kinney. There's no denying his business has expanded in tandem with rising Venice property prices.
Of course, Venice is also changing in ways which have nothing to do with Lett. Google has their LA office a block away and Snapchat rents an entire street by the beach. Really, this issue is a global one. Whether you're living in Venice, Park Slope, or Bernal Heights, you're probably aware that these formerly bohemian, working-class areas are being influenced by a wealthier, younger middle class.
The uncomfortable question then arises: By patronizing your local, spendy, organic bakery, are you ruining the neighborhood?
It costs to eat here. I talk to Savannah, a British makeup artist who lives nearby. "It's a rip-off," she says, "but the food is amazing. I'm in there every day." Even among Gjusta's regulars, I get the message that the stomach says yes, but the wallet says no. A chopped salad, sown with mosaic pieces of salami and accompanied by some tender broccoli in garlic and balsamic dressing, will set you back $10.50. Sandwiches are between $12 and $15.
Whether or not you feel this is good value depends on whether you believe Lett's claim that he's simply selling "healthful food at a fair price." You might be used to getting more food for less money, but Americans, Lett says, "have a strange idea of the value of food."
The food too, is stripped back. I call it minimal; he suggests "elemental." Consider the Risky Biscuit: a buttermilk biscuit containing a sliced fennel sausage and a crispy fried egg, over-easy, with a little chilli sauce. Or the Butcher's Block Sandwich, which is a three-chord affair: meat, salt, olive oil, and its own dipping bath of jus.
"It's been a subtractive process," says Lett, "so the longer I cook, the more I think, What can we take away?"
Is it reasonable to assume that simple food should also be cheap? Lett says that his prices reflect both the labor that goes into his food, and the care that goes into sourcing it.
For me, questions hang in the air: Does a light go out on the Venice sign every time you eat one of his delicious bialys? Does Harry Perry hit a bum note each time you chomp down on the light, sweet pastry of one of Lett's croissants?
I visit William Attaway, the resident artist in the doomed studio a few doors down, who offers a different perspective on Lett and his quickly growing Gjelina empire. I catch him on the final day of his 35-year tenancy in Venice. A moving truck is parked outside and his son is loading up sculptures and ceramics to take them—though Attaway is not sure where yet.
Attaway surprises me: "There's 75 people that work in there. Travis is just one partner in that business. He is a young entrepreneur and he is an artist. He's no different from you or me."
But what about the neighborhood? "When I did the mosaic at the Venice boardwalk," he says, "I had old ladies coming up to me saying, 'You rich artists, you're ruining our boardwalk.' I started gentrification. You want to blame anyone? Use my name, William Attaway. I will accept the blame."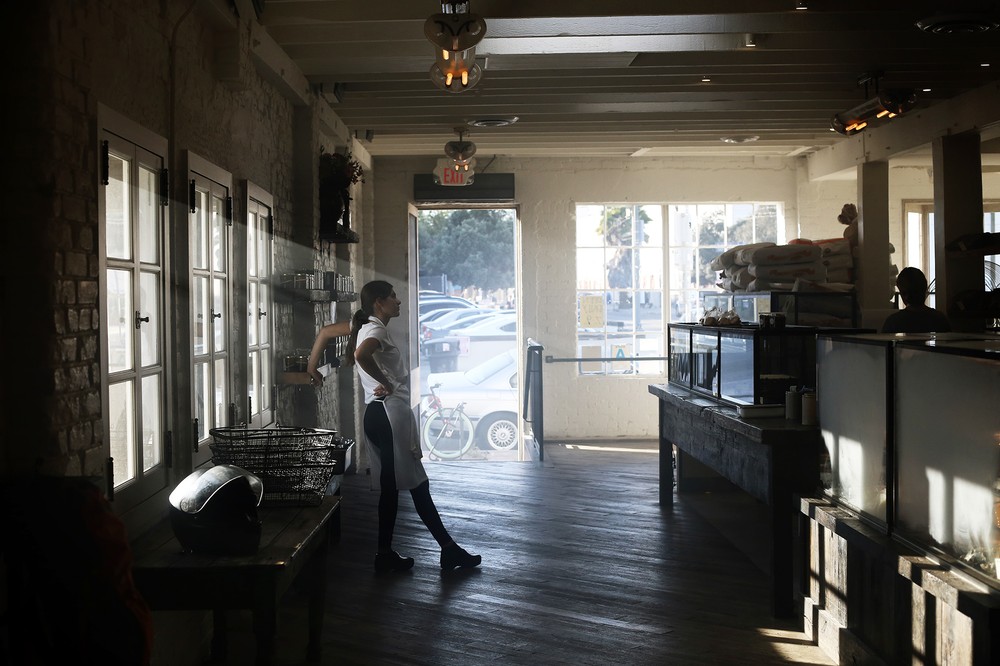 This piece first appeared in Munchies.